In this DJI Mic review, I'm evaluating a new microphone kit for podcasters, vloggers, streamers, and anyone else who needs the convenience of two wireless microphones. This gadget lets you record on two channels simultaneously, and it can record a second version of your audio at a lower volume as insurance against unexpected and unwanted skips or cuts from overly loud interviewees. The microphones are omnidirectional, so they can be used for multi-person recordings as well as solo speeches.
Although there are much cheaper wireless mics, they usually don't have built-in storage. The DJI Mic does just that, with room for up to 14 hours of audio in each microphone/transmitter. This makes it ideal for vox pops and on-the-spot recording; it's handy if you also prefer to move around when podcasting. You can expect up to 5.5 hours from each transmitter, 5 hours from the receiver, and up to 15 hours via the charging case. Each transmitter weighs 30g.
DJI is best known for being the brand behind pretty much all of the best drones of recent years, although it has branched out a bit at times with gadgets such as the DJI Action 2 action camera (which was launched in November 2021, replacing the old Osmo Action and proving to be a worthy GoPro alternative), and the DJI OM 5 gimbal.
The DJI Mic is again tackling a different market. So is it really good? I tested one to see how it holds up against competitors' offerings. Read on for my in-depth review of the DJI Mic.
DJI Mic review: price and release date
The DJI Mic costs US$329 / £289 / AU$509. The original October 2021 launch date has been pushed back to March 2022, and like other electronics companies, DJI is still facing supply issues, which if you're reading this soon enough after publication (May 2022), you may find that there is a limit to the number you can purchase, or need to reserve a unit rather than purchase immediately.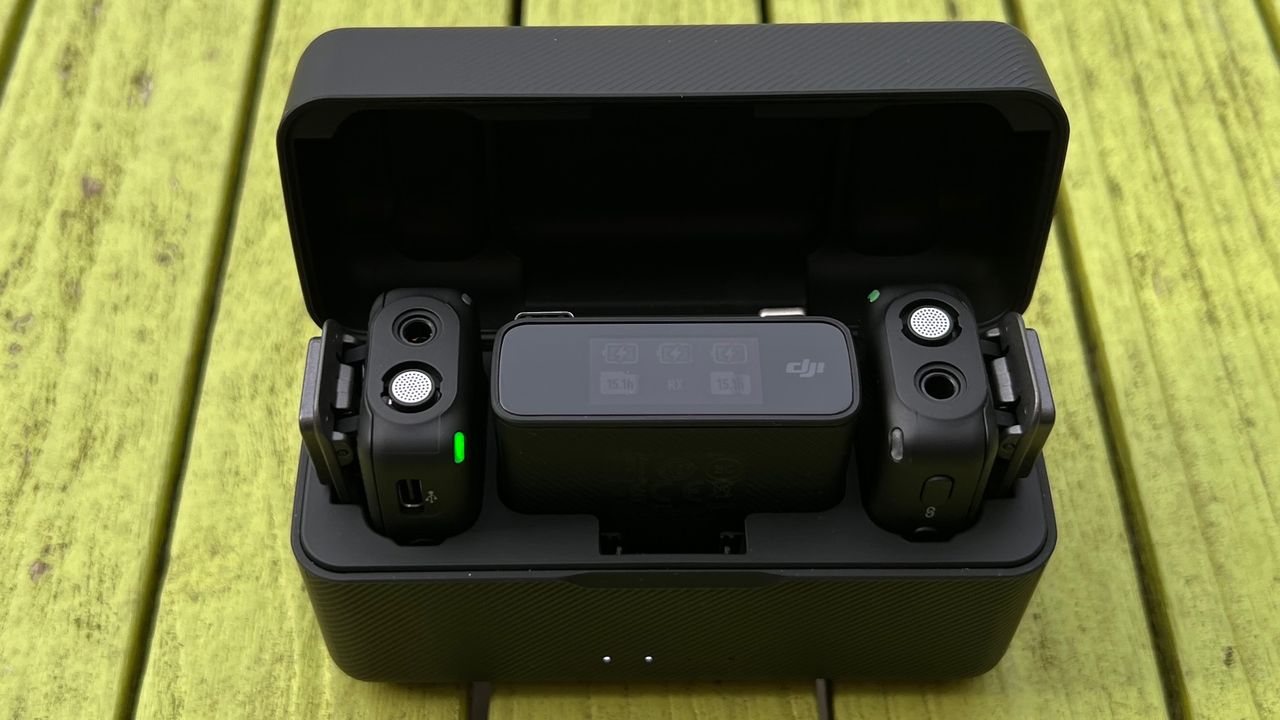 DJI Mic review: Features
The DJI Mic offers wireless recording using the 2.4 GHz frequency band with a range of up to 250 m.
The key feature here is that the DJI Mic lets you record from two transmitters simultaneously, so for example you can put one transmitter on your video camera and attach the other to your interviewee's top; use the two microphones in parallel to obtain an interesting stereo effect (on computer: if you record directly on iPhone, you are limited to mono); or use one as the main mic and the other as backup. You can adjust the sensitivity of each transmitter from -12dB to +12dB.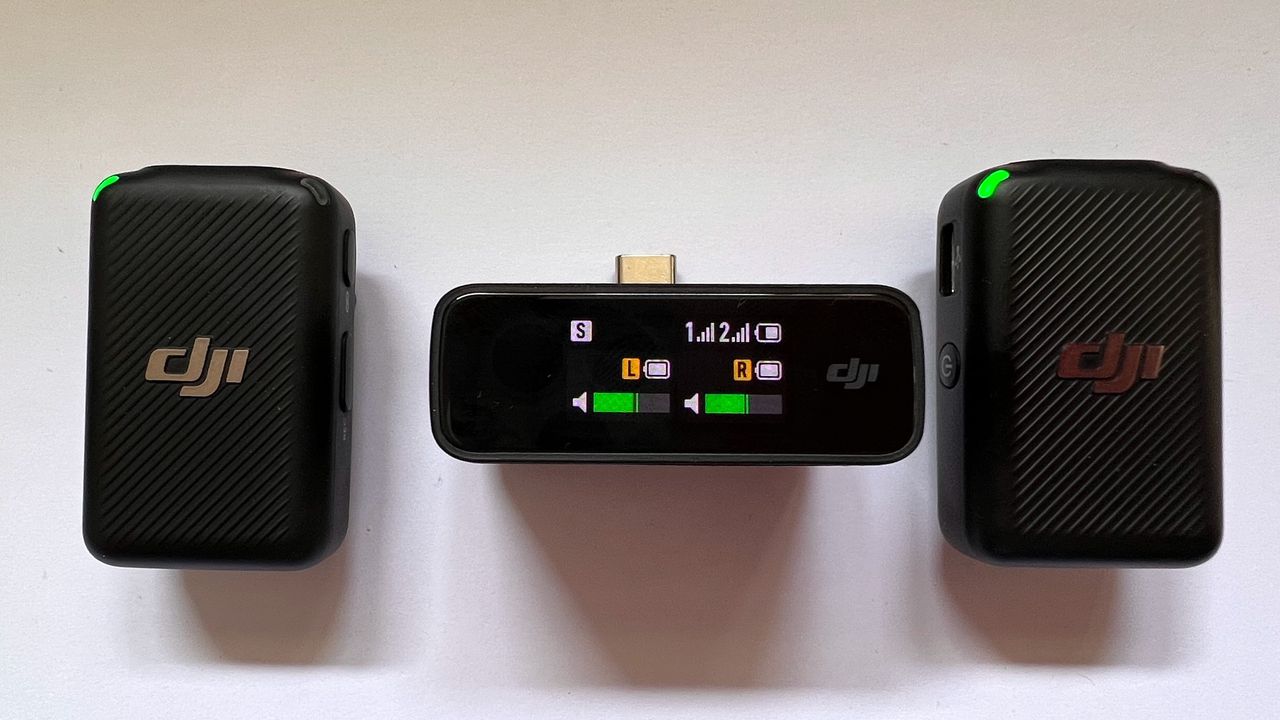 One of the best features is the safety track, which you activate by recording in Mono-S mode. This automatically saves a second version of your audio with a 6dB level cut, so if you or your conversation partner ends up hitting the red line and causing clipping distortion on your main audio track, you can get the most silencer from the safety track and use it instead. It can save your life if you are recording interviews that you cannot redo.
The frequency response of the pickups depends on whether the low cut is used or not. If you do, the frequency range is 150Hz to 20KHz, reducing low-end rumble and the more explosive bits of deep-voiced interviews. When off, the lower end drops to 50Hz.
DJI Mic review: Setup and use
Unboxing the DJI Mic looks a lot like Christmas: inside you'll find the DJI Mic receiver, two DJI Mic transmitters, a charging case, a 3.5mm TRS audio cable, a USB-C adapter, an adapter Lightning phone case, two windshield furry mics, two clip-on magnets, carrying pouch, hot shoe adapter and charging cable.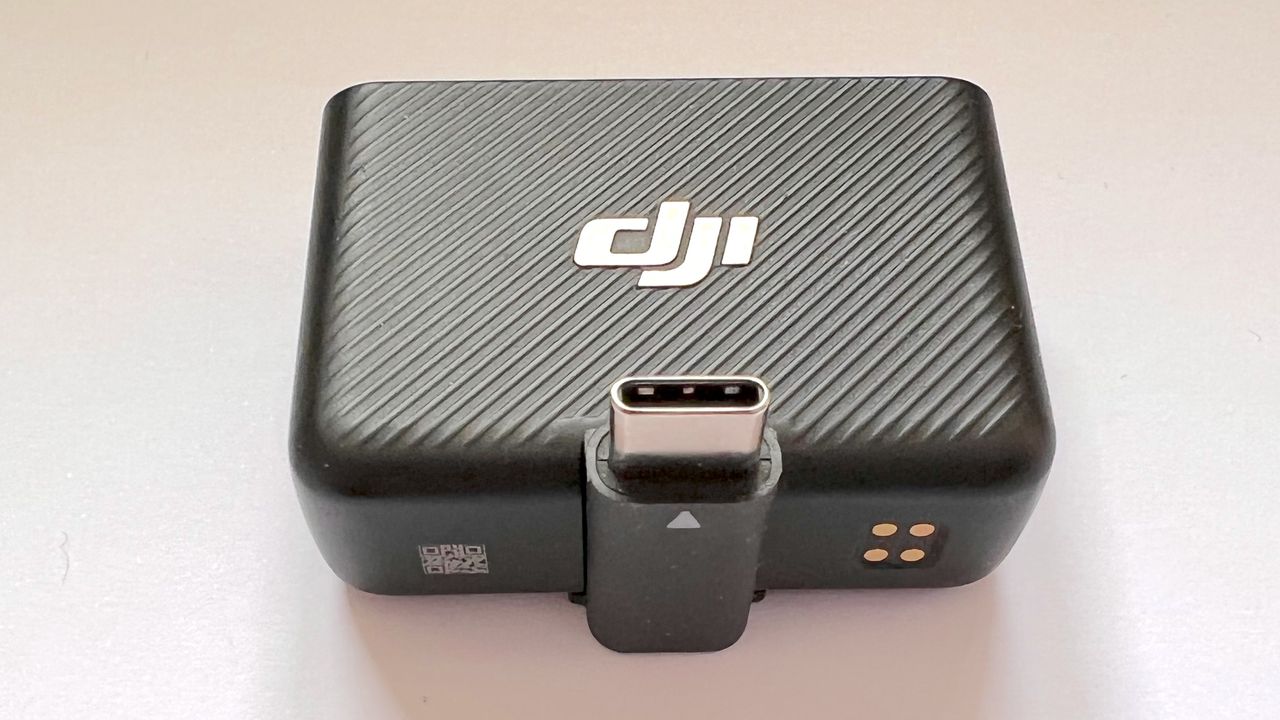 The USB-C and Lightning adapters slide neatly onto the bottom of the receiver, which is very tidy – but if, like your review, your laptop has two side-by-side USB ports, the receiver will block the one it doesn't. is not plugged in.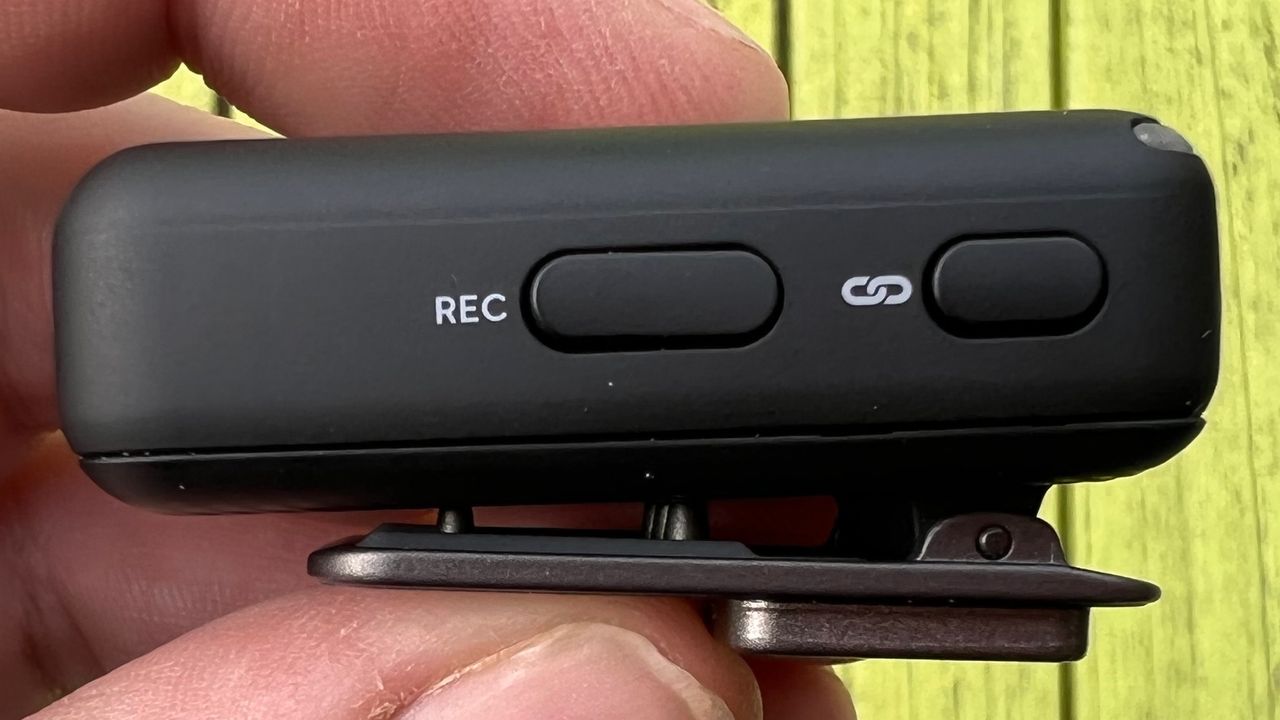 The microphones have simple, if too close, control buttons for linking and recording, and you can connect them directly to a computer or phone via their USB-C ports to transfer recordings directly. To use the mics as wireless mics for an application such as Logic Pro, simply install the supplied USB adapter on the receiver and plug it in; it instantly appeared as an audio source and as a mass storage device in the macOS Finder.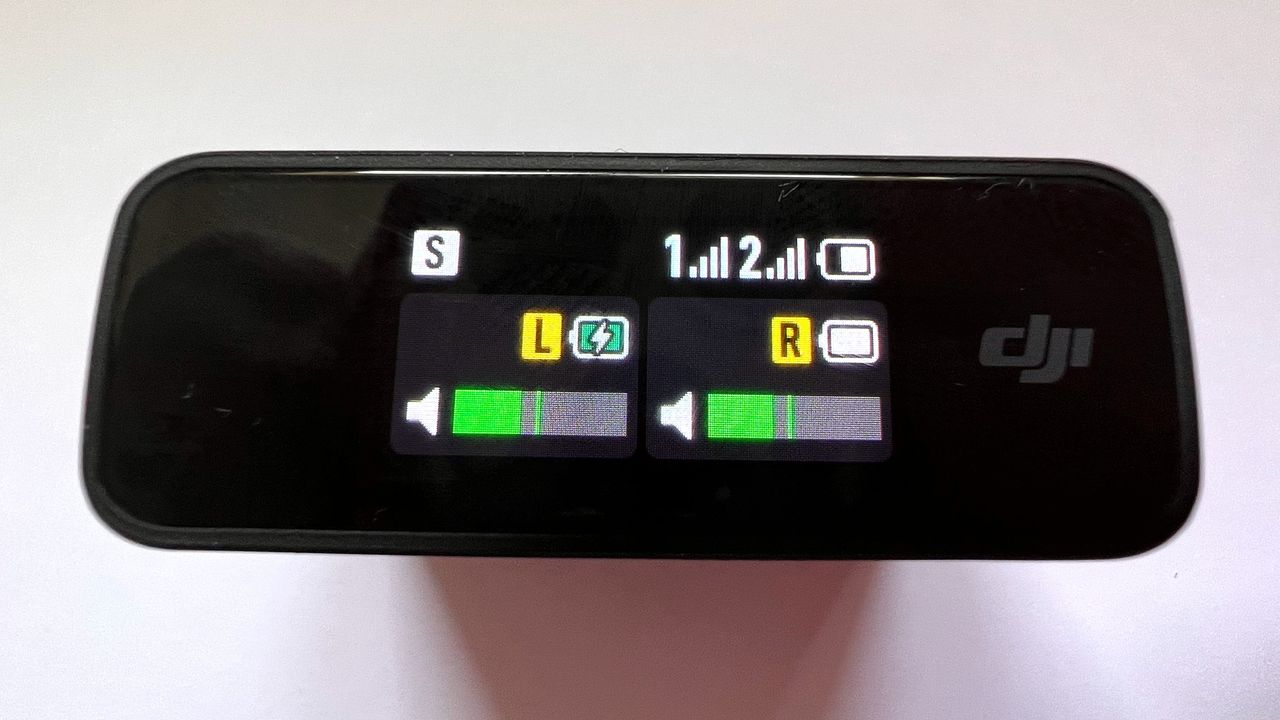 The receiver's touchscreen is simple and effective, displaying your mic levels and allowing you to adjust the gain on each transmitter, turn low-cut on or off, and adjust audio settings, such as whether the recording must be in mono. My device was set to Chinese, but changing the language setting was a two tap and one tap affair.
DJI Mic review: Sound quality
I tested the DJI Mic in two scenarios: as a standalone recording device, transferring the WAV files to my computer later, and as a wireless microphone streaming live in Logic Pro. There was no difference in audio quality between the two methods: both delivered clear speech without intrusive background noise. Wind suppression with the supplied windshields was also effective.
You can use the DJI Mic in four ways: as a small handheld microphone; clipped on a camera; as a room mic sitting close to the subject; or as a clip-on lavalier microphone that attaches with its clip or magnets. If you already have a good quality lavalier, you can plug it into the 3.5mm TRS input jack on the top of the transmitter – and you probably should, because while talking directly into the DJI Mic, it delivers incredibly clear and full sound, it's far less impressive. when clipped onto a t-shirt or top.
As a microphone placed right in front of me it sounded wonderful and much better than you would expect from such a small microphone, but clipped into it it sounded noticeably more boxy and midrange with a significant drop-off high frequencies.
DJI Mic review: Alternatives to consider
The Sennheiser XD Digital Wireless Portable Lavalier Set sells for around $300 / £250 / AU$449. However, this only gives you one microphone and it doesn't have its own storage. There are also a number of Rode Wireless Go plans; the one that most closely resembles the DJI is the Wireless Go 2 dual-channel microphone system, which has two transmitters, a safety channel, can store up to 7 hours of uncompressed audio and sells for around £235/279 $ / AU$369 – although it is not. It doesn't include a phone adapter, so you can expect to pay an extra $20/£20 for it.
If you're specifically looking for a lavalier microphone, Sennheiser's 40-EW is widely regarded as one of the best on the market thanks to its phantom-powered cardioid; it is particularly good at handling low frequencies, allowing it to be used for both instruments and speech. Expect to pay around £250 / $299 / AU$469; you'll also need a preamp (for wired use) or an Evolution Wireless Adapter to plug it in, which doubles the price.
DJI Mic Review: Verdict
As an all-in-one package, the DJI Mic has a lot going for it: you get two impressive wireless microphones, plenty of storage, and plenty of adapters too, so if you're looking for a complete two-mic system, you can simply slipping into a bag or pocket to connect to just about anything is a great option.
However, while as a wearable mic it sounds great, it's far less impressive if you're clipping it to clothing or recording a room; you'll definitely need to play with your audio's EQ to reduce the box. The specs and price are very similar to the Rode Wireless Go 2, and I'd recommend a close comparison between Rode's various packages and the DJI to see which suits your needs best.
//pictures//
DJI microphones in case
First revision April 2022