introduction
Endeavor Mining plc (TSX: EDV, LSE: EDV, OTCQX: EDVMF) is West Africa's largest gold producer, with seven operating assets in Senegal, Côte d'Ivoire and Burkina Faso and a solid portfolio of advanced development and exploration projects. active in the highly prospective Birimian greenstone belt across West Africa.
1 – Overview of 4Q21 and full-year 2021 results
On January 24, 2022, Endeavor Mining announced that in 2021, its gold production stood at 1,536,000 ounces (908,000 ounces in 2020), beating the upper end of the guided range of 1,365 to 1,495 koz due to higher production from the mines of Houndé, Ity, Sabodala-Massawa and Mana. The company sold 1,581,000 ounces in 2021 compared to 914,000 ounces in 2020.
Endeavor Mining said its consolidated production from continuing operations was a record 1,524,000 ounces in 2021, compared to 721,000 ounces in 2020, due to the addition of Sabodala-Massawa and Wahgnion in the first quarter of 2021.
Full-year production at Boungou and Mana (acquired in 2020) and stronger performance at Houndé and Ity helped.
Fourth quarter 2021 production was 398,000 ounces and the company sold 390,000 ounces.
In 4Q21, net debt improved by $146 million from the prior quarter, despite completing $44 million in share buybacks during the quarter.
Finally, for 2022, the company announced gold production of 1,400,000-1,500,000 oz at an AISC of $890-940/oz. The Group's realized gold price from continuing operations was $1,787/oz and $1,773/oz for 4Q21 and full year 2021, respectively, including Sabodala- Massawa and Karma.
2 – Investment thesis
The investment thesis is pretty simple when you look at the strong balance sheet. I believe EDVMF is a great long-term investment, and nothing has changed since my previous post.
A matter of slight concern is that West Africa is not a safe jurisdiction for gold mining, and we should consider additional risk due to location. the recent coup in Burkina Faso is the most recent issue.
It is a pattern that is becoming all too common again in West Africa: mutinous soldiers arrest a president, then take control of the public television channel to announce that they have taken control of the country. International condemnation quickly follows, but the junta remains in power.

The new wave of coups in West Africa began in Mali in 2020, followed by another in Guinea the following year, and then in Burkina Faso at the end of last month. Just a week later, gunmen also attempted to overthrow Guinea-Bissau's president in a machine gun attack that lasted for hours but failed.
However, the threat should not be overstated, and we can see that the company has handled its business quite well so far.
Thus, I recommend trading the short-term LIFO around 30% to 40% of your total position and using your short-term gains to increase your main long-term position for a much higher target while taking advantage of the dividend.
3 – Stock market performance
EDVMF has done reasonably well year on year against a few of its peers and is up 5%.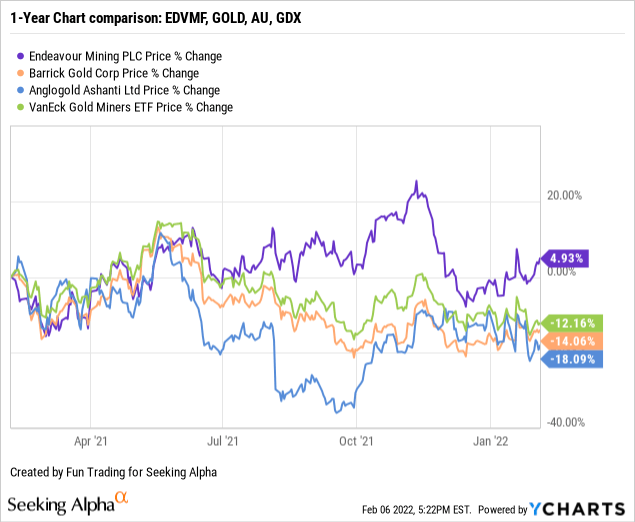 CEO Sebastien de Montessus said in a press release:
2021 was another successful year for Endeavor in which we achieved all of our goals. We focused on executing on our capital allocation priorities to fully implement our shareholder return program, while sustaining our operations, continuing to strengthen our balance sheet and investing in exploration.

Operationally, after the rapid and successful integration of the Teranga and SEMAFO assets, we were able to achieve a record year with production of over 1.5 million ounces, ensuring that we met or exceeded our forecast for the ninth consecutive year.
Endeavor Mining – 4Q21 review and trend – The raw numbers
| | | | | | |
| --- | --- | --- | --- | --- | --- |
| Endeavor Mining | 4T20 | 1Q21 | 2Q21 | 3Q21 | 4Q21 |
| Total revenue in millions of dollars | 553.37 | 635.79 | 753.43 | 691.71 | 697* |
| Net income in millions of dollars | 22.33 | 89.57 | 126.78 | 113.59 | – |
| EBITDA in millions of dollars | 199.52 | 332.41 | 359.90 | 341.85 | – |
| Diluted EPS in $/share | 0.29 | 0.43 | 0.50 | 0.45 | – |
| Cash flow from operations in millions of dollars | 364.36 | 197.94 | 300.48 | 311.91 | – |
| Capital expenditures in millions of dollars | 81.61 | 113.70 | 144.04 | 132.47 | – |
| Free cash flow in millions of dollars | 282.75 | 84.24 | 156.44 | 179.44 | – |
| Total cash in millions of dollars | 644.97 | 868.20 | 832.88 | 760.37 | 906 |
| Total long-term debt in millions of dollars | 688.27 | 1,044.81 | 929.76 | 850.43 | 830 |
| Shares outstanding (diluted) in millions | 163.23 | 209.21 | 253.43 | 252.13 | – |
| Au Oz production | 4T20 | 1T21 | 2Q21 | 3Q21 | 4Q21 |
| Total gold production | 343.6 | 346.8 | 409.0 | 382.2 | 398.0 |
| AISC (co-product) from continuing operations | 803 | 868 | 853 | 904 | 900 |
| Realized gold price | 1,841 | 1,749 | 1,791 | 1,763 | 1,787 |
Source: Company release. Fun trading files.
* Revenues are calculated based on 390,000 ounces sold in 4Q21 at a gold price of $1,787 per ounce.
Analysis: revenue, free cash flow, debt and gold production
1 – Quarterly revenue for the fourth quarter of 2021 (Estimated).

The company said it sold 390,000 ounces in 4Q21 at a gold price of $1,783 per ounce. Thus, 4Q21 revenue will be $697 million or up 26% year-on-year.
2 – Debt situation. Excellent profile. The company managed to have no net debt in 4Q21.
Endeavor Mining said it had net cash of $76 million at year-end, despite absorbing approximately $332 million of Teranga net debt in 1Q21 and the payment of $130 million in dividends and $138 million in share buybacks during the year.
In 4Q21, net debt improved by $146 million from the prior quarter, despite completing $44 million in share buybacks during the quarter.
The company is now net debt free.

Excerpt from the press release:
During 4Q21, Endeavor Mining completed a $500 million offering of fixed rate senior notes with a 5% interest rate due 2026. The proceeds were used to repay its existing loan facilities. The Company also entered into a new $500 million revolving credit facility which remained unused as of December 31, 2021.
As of December 31, 2021, Endeavor's available liquidity was approximately $1.4 billion, including approximately $906 million of its current cash and $500 million of undrawn funds from its revolving credit facility.
The Company's large cash position and other sources of liquidity provide financial flexibility should it consider settling the outstanding convertible bond in cash.
3 – Quarterly analysis of gold production

Consolidated 4Q21 production from all operations was 398,000 ounces of Au, compared to 343,554 ounces in 4Q20. The company sold 390,000 Au Oz this quarter.
Below is Production by Mine – Comparison 4Q20 versus 4Q21.

Note: The Karma mine is an asset held for sale.
AISC for all trades rose slightly this quarter to $900 an ounce, which is still excellent.

4 – Orientation 2022
2022 production is expected to be 1,400,000-1,500,000 oz at an AISC of $890-940/oz.
The forecast is in line with the outlook provided at the June 2021 Investor Day despite global inflationary pressures, which were partially offset by costs, purchasing and operational optimization programs, and realized the benefits of a production more important in the flagship mines at lower cost.
The 2022 AISC is expected to range between $890/oz and $940/oz.
Maintaining and non-maintaining CapEx are expected to decrease by approximately $40 million in 2022 compared to 2021. Maintaining CapEx for 2022 is expected to be $170 million, compared to CapEx of $167 million in 2021. be $179 million compared to $214 million in 2021.
Technical Commentary and Analysis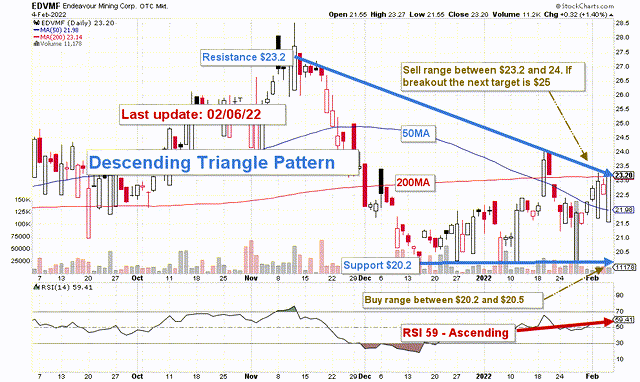 EDVMF forms a descending triangle pattern with resistance at $23.20 and support at $20.2.
The trading strategy is to gradually sell around 30% to 40% of your EDVMF position between $23.2 and $24 and build back below $20.2. The best-suited approach is to sell LIFO in the short term while maintaining a long-term core position for the "big payday".
However, the price of gold is volatile and will continue to fluctuate wildly in 2022. Inflation is a major concern at the moment, and the price of gold could be negatively affected if the Fed decides to raise interest rates sharply. in 2022.
If so, EDVMF might breach support and retest $17-$18. Conversely, if the Fed decides to be conservative and chooses to slowly increase interest, the EDVMF could rise quickly and reach $28.
Watch the price of gold like a hawk.
Warning: The TA table must be updated frequently to be relevant. This is what I do in my stock tracker. The table above has a possible validity of approximately one week. Remember that the TA chart is a tool only to help you adopt the right strategy. This is no way to predict the future. Nobody and nothing can.
Author's Note: If you find value in this article and would like to encourage such continued efforts, please click the "Like" button below as a vote of support. Thank you!