With the new Smartphone Sony Xperia 5 III, the trusted and reputable company continues to push the limits of what its technology can do — and its loyal customers couldn't be happier.
The Xperia 5 III offers incredible performance in a mobile phone that goes beyond expectations. It offers fast AF speed, 5G connectivity and impressive battery life. All this by combining the latest Sony technologies in a compact design that fits comfortably in your hand. Let's discuss everything we know about this feature-rich phone so far.
Main features of the Sony Xperia 5 III:
Real-time Eye-AF, variable telephoto and dual PD sensor

360 Reality Audio, 360 Spatial Sound mixing

6.1-inch 120Hz HDR OLED display, 21:9 aspect ratio, Corning Gorilla Glass 6

Four focal lengths on a three-camera system, Object tracking

Custom display, audio and microphone settings for gamers

Use as an external monitor

IP65/68 water and dust resistance

5G connectivity and speed

4500mAh battery with fast charging

Internal memory up to 512 GB, MicroSD slot
The Xperia 5 III, Sony's latest 5G smartphone, follows on from the Xperia 5 II. It's packed with features for photographers, movie buffs, and gamers. You get a wide range of imaging capabilities with the 12MP triple rear lenses and ZEISS optics. This phone has a lot to offer, including subject tracking, 4K SteadyShot video, and low-light support.
Design
With Corning Gorilla Glass 6 on the front and back, as well as a metal frame, the Sony Xperia 5 III is a smartphone that boasts a glossy finish. Sony has also included a 3.5mm minijack connector on the top of the phone, a feature appreciated by many audiophiles.
Probably the most notable part of the design is the 21:9 aspect ratio. This results in a taller phone, but not as wide, making it easier to use with one hand. The front camera sits next to the speaker above the screen. As with the Xperia 5 II, the camera module is in the top left corner on the back of the phone.
The Xperia 5 III will be available in two colors: black and purple. On the right side of the phone, a fingerprint reader is integrated into the power button. In addition, you will find a dedicated volume and camera button.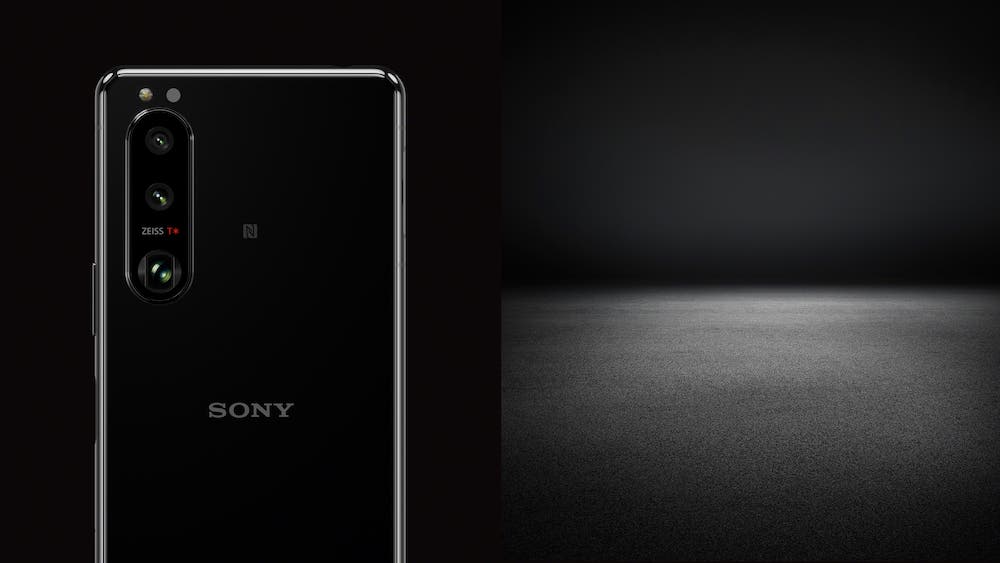 Display
The Xperia 5 III's 21:9 OLED display comes with FHD+ resolution and 120Hz refresh rate. image to be as accurate and realistic as possible. Widescreen offers a wider color space, while 10-bit HDR offers more detailed reproduction of color transitions.
With the 21:9 aspect ratio, you can run two apps simultaneously in 21:9 multi-window mode. Sony's Side Sense feature makes it easy to access apps by placing your finger along the edge of the screen. When watching supported Netflix content, Sony's display provides an anamorphic viewing experience, as if you were at the cinema.
Performance
Considering the Xperia 5 III is a flagship device, it's no surprise that it features Qualcomm's Snapdragon 888 5G chip. As a result, it offers excellent performance that can easily handle the most intensive games or applications, such as Call of Duty Mobile. Power, a gorgeous screen and a great speaker make the Xperia 5 III a more than capable gaming phone.
The included fast charger can charge the 4500mAh battery to 50% in 30 minutes. Sony's concern is long-term battery health, not the fastest charging speed available. Users are encouraged to charge their phone slowly and carefully using the Xperia Adaptive Charging feature. If you want your phone to charge quickly, you can always disable the feature. Enabling it, however, will prevent the battery from being overcharged, resulting in a longer lasting battery.
Camera and audio
Using quality headphones with your Sony Xperia 5 III enhances the cinematic experience you get thanks to its 21:9 aspect ratio. The Xperia 5 III supports Dolby Atmos and Hi-Res Audio, including Sony's LDAC format and DSEE Ultimate technology, as well as 360 Spatial Sound.
Listening to 360 Spatial Sound will give you a 3D-like experience, which should make your music feel like you're listening to it live. There are several streaming services that offer 360° spatial sound, including Tidal, Apple Music, and Deezer.
Additionally, the Xperia 5 III has three cameras: a 12-megapixel 24mm wide-angle lens, a 16mm ultra-wide-angle lens, and a telephoto lens. The telephoto lens has a variable focal length that can smoothly shift from 70mm to 105mm. It's Sony's alternative to traditional optical zoom and it works incredibly fast. Additionally, all three lenses feature dual phase-detection autofocus, which produces razor-sharp images even in low-light conditions.
Camera app
The Photography Pro camera app has completely replaced the standard camera app. The software has basically the same user interface as Sony's Alpha cameras. Therefore, it offers manual settings for exposure, white balance, shutter speed, etc. It also has Real-time Eye-AF, which tracks and focuses on the subject's eyes in real time.
For videographers and creators, there's also the Cinema Pro app which lets you record 2K 120fps 10-bit HDR and 21:9 4K HDR at 24, 25, 30 and 60fps respectively. Plus, 4K HDR 120fps slow motion. Cinema Pro's "Looks" feature allows users to adjust color curves, contrast, and saturation. You will be able to create, edit and upload cinematic-looking videos in 21:9 aspect ratio directly from your smartphone without having to apply LUTs later.
Wrap
Fans of Sony's Xperia line and those who want more flexibility without carrying around extra hardware will appreciate Sony's Xperia 5 III smartphone. If you're a gamer looking for an OLED display with a high refresh rate, or looking for pro camera features, look no further. The Sony Xperia 5 III is a solid choice for your next upgrade.